Christmas Baking plus other sweets (and savories)
I've been way behind on everything this winter break, homework included. Before I embark on the continuation of my schoolwork, I want to post all these pictures so I have a peace of mind. I admit some of the pictures you'll see below are from up to a few months ago. This is going to be a BIG post, but bigger is better, right?
Christmas. I did a lot of baking/candy making because I tend to go all out for everything. I make simple things involved and complicated. But that's okay because I like to make people happy, and how do homemade baked goods and presents not make people happy? I got a lot of neat gifts, but I'll get to that later because I know you want to see the pictures.
Phase One: School
It's pretty much a given that I was going to do something for school. I had a secret santa party after school and a whole day of school to endure. So I made it sweet. I spent about 7 hours working on this the night before because I am, in fact, crazy.
The craziest: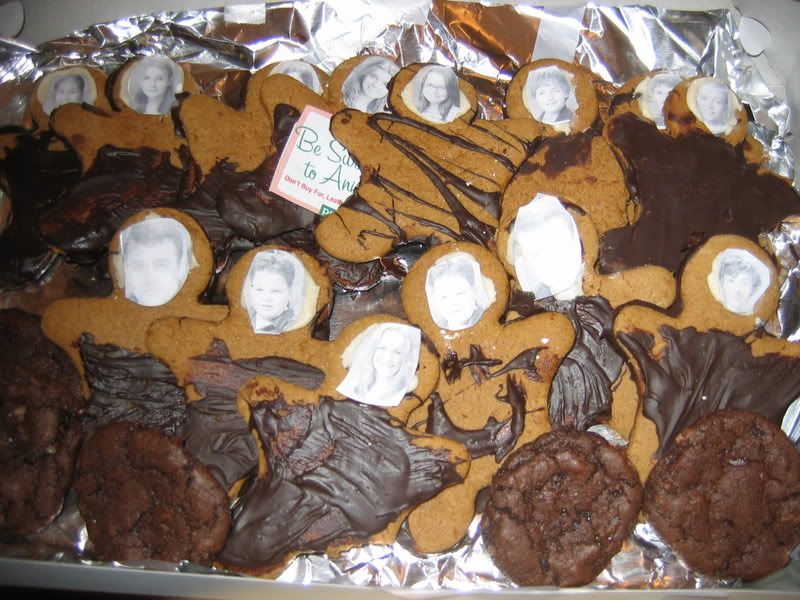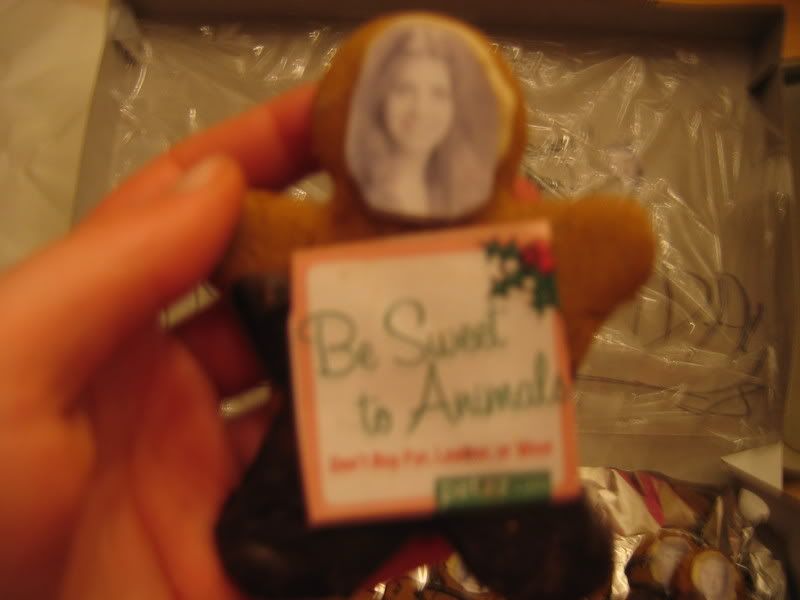 Yes, they are gingerbread people. Yes they have faces. They're paper faces, but I neglected to tell the recipient that detail. I'm sure he figured it out though. I made a whole bunch of these and gave a boxful to my AP Euro teacher. The faces are my classmates copied from a yearbook and glued on with sugar paste. And dipped in chocolate. I have quite an obsession with dipping things in chocolate, as you will see shortly. He said they were the weirdest things ever. The second picture is me and it's no surprise that I pasted on something related to animal rights. I thought it was kind of funny that all of them stayed intact on the way to school except the cookie of my teacher, who was decapitated. Oh, and I had to walk to the store IN THE RAIN to get molasses for these.
I also brought Isa's chewy chocolate chocolate chip cookies (found on the PPK website) with crushed candy canes added into the batter. These are some of the best cookies ever. Sadly, the picture didn't turn out. I also brought Chocolate Chip Cookies from VwaV, made from the leftover batter of the cookie cake I brought to my secret santa party. And some Fudgy Brownies from Vive le Vegan, topped with drizzled cashew frosting and chocolate ganache. My secret santa received a gift card to Target, a stuffed animal of a frog, some brownies, and a few cookies.
Brownies OMFG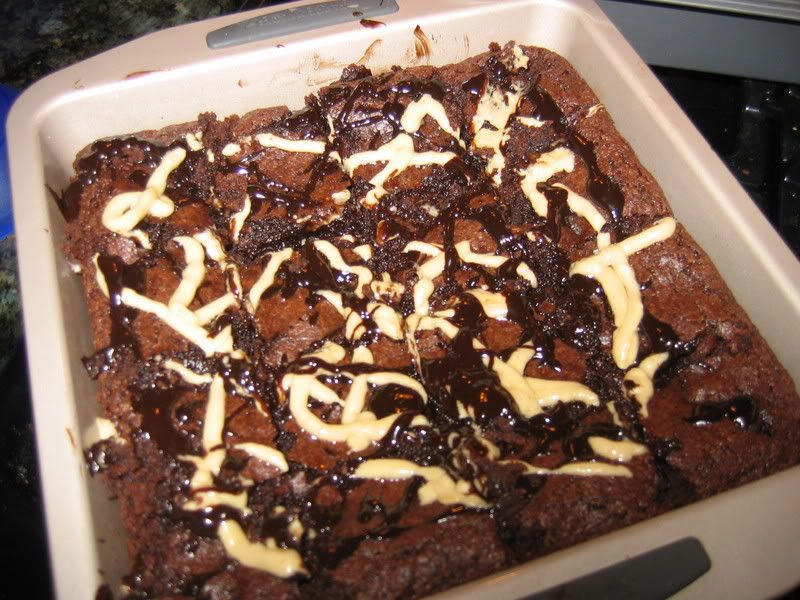 Choco Chip Cookes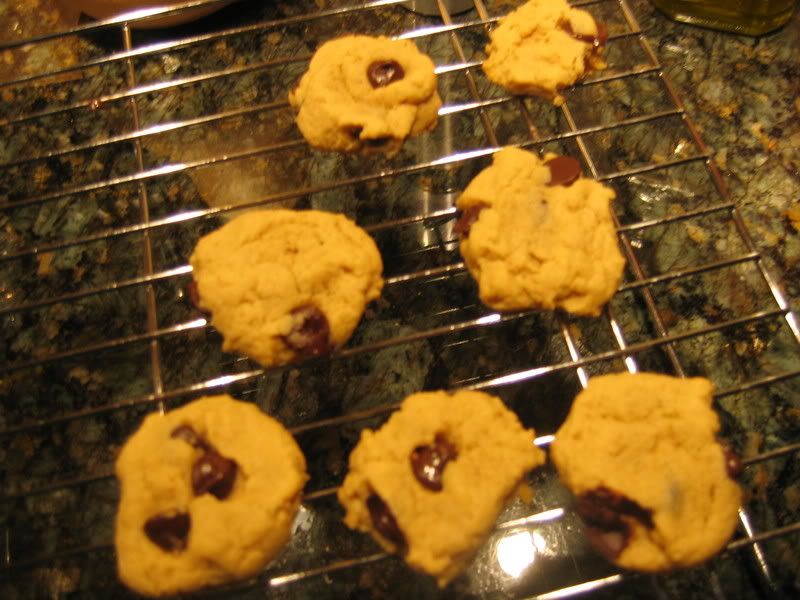 Secret Santa Cake with chocolate ganache and multicolored frosting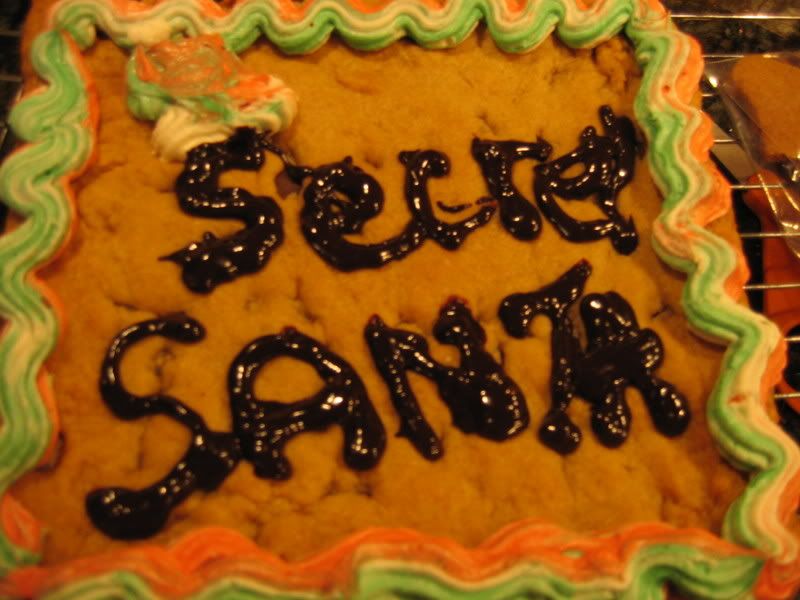 Phase 2: Getting into the Christmas Season
This is the part where I am all excited and think: "OOOOOHHHH I can make a bazillion things because it's the holidays. Excitement!". And I did.
I made buttercrunch toffee, two kinds of sugar cookies, gifts for everybody (peppermint patties, chocolate covered cashew cream eggs, snickerdoodles, ginger cookies, and gingerbones for my puppy). I have pictures of everything except the snickerdoodles and gingerbones.
Buttercrunch Toffee. Basically pure sugar and fat. Mmmm...(I know I got the recipe from kittee on the PPK, but I'm really bad at remembering where I got things. Now I can't find it.) The first time I made these, I burned the mixture on the stove, panicked, and stupidly poured it into a STYROFOAM CUP. I don't know what I was thinking besides: "People put hot coffee in styrofoam cups....GRAB A STYROFOAM CUP". Not a good idea. It got sticky sugary stuff ALL OVER the stove and floor. I don't know why I didn't just leave it in the pot.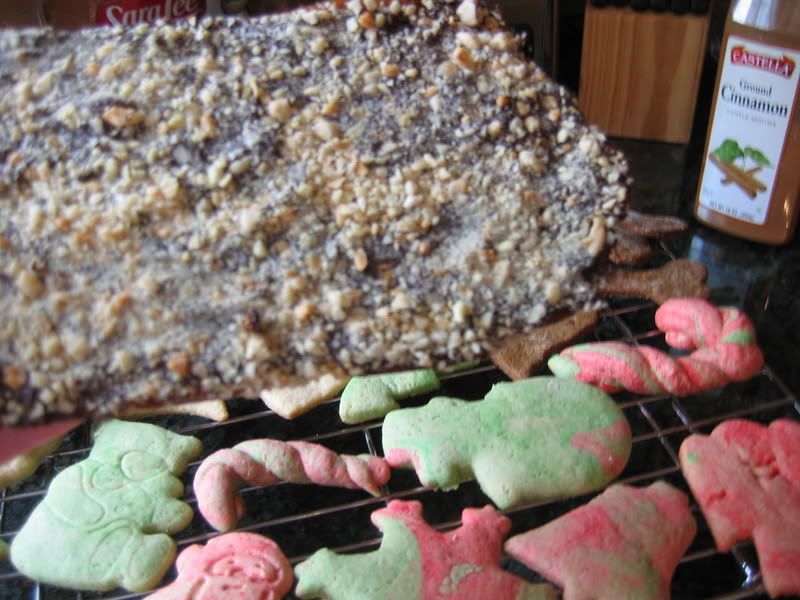 Sugar Cookies. I veganized my mom's recipe and they were sooo good. The frosting is from the cupcake book and the sprinkles are just sugar and food coloring.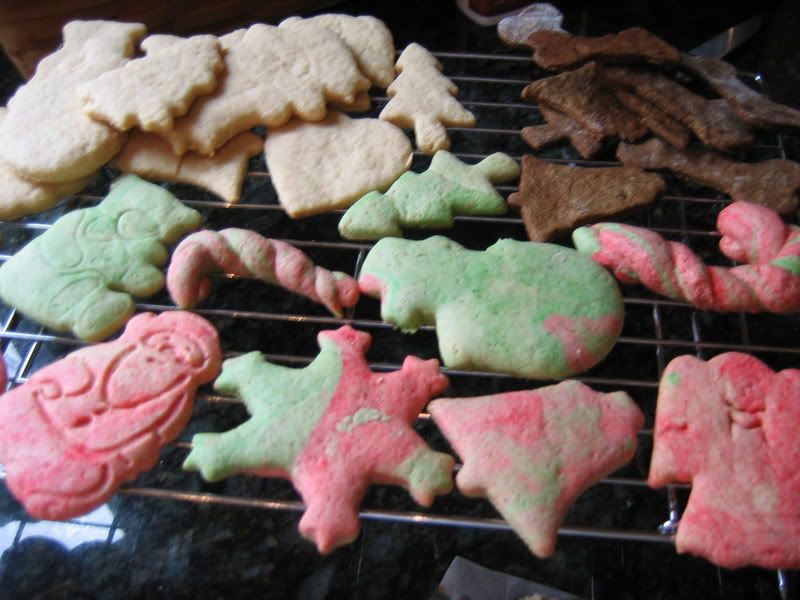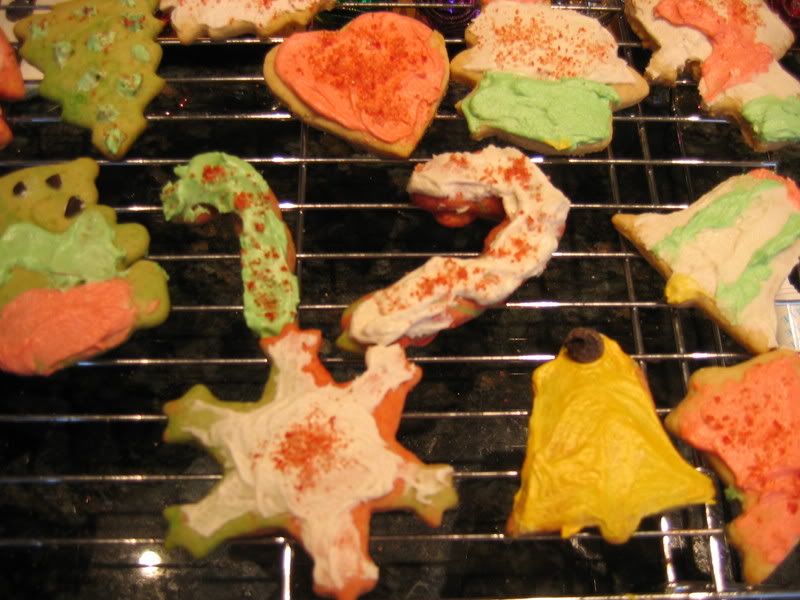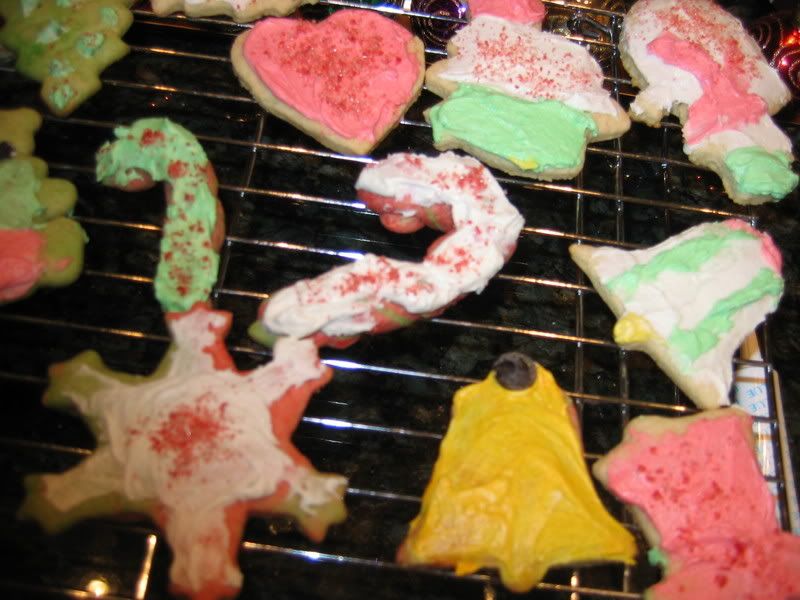 The picture is pretty bad, but these are peppermint patties and chocolate covered cashew cream eggs. I cannot find where I got the eggs recipe, but they are fricking amazing. They were peanut butter eggs, but I kind of hate peanut butter, so I used cashew. I made them with peanut butter again today and they were really good because they were more sugary than peanutty. The peppermint patties were from
Veganlicious
. I will eventually type up the eggs recipe because everyone should make them.
Sparkled Ginger Cookies from your know where for my dad. I made them hard because he likes them crunchy. I like them soft and chewy, so I always make them that way instead.
Here's how I gave the gifts (I made one thing for each person, then gave a few of the other peoples' sweets to everyone):
Mom-Peppermint patties plus some cashew eggs and ginger cookies
Dad-Ginger cookies plus some peppermint patties and cashew eggs
Brother-Cashew eggs and snickerdoodles plus peppermint patties
Grandma-A little bit of everything
Other Grandma and Grandpa-Cashew Cream Eggs
Phase 3: Christmas Day
Drake got SOOOOO many presents. I divided the gingerbones between 4 presents so he had more to open. He also got a big tennis ball, a stuffed squeaky sheep, a squeaky duck, a stuffed cow that goes moooo, a stuffed frisbee, a holey roller ball, a new nylabone (he completely chewed up his other one), a rubber bone, and a few other things. He's sooo spoiled and loved opening everything and playing in the wrapping paper. This was his first
real
Christmas, so we made it really special for him. His first Christmas was most likely spent locked up in a crate in an ice-cold garage all day...
His favorite toy ever, his nylabone:
Some pictures of Drake with his presents:
His sheep (he tore off her ear within minutes, made a hole in his ducky, frisbee, and cow. Yet we still buy him cute little stuffed animals...):
Playing in the wrapping paper:
Drake was very patient when he let us take lots of pictures of him outside:
He didn't really like being dressed as a princess though:
On Christmas day, I got:
-Money-lots! and Hobby Lobby gift cards
-A woodburning kit from my grandparents
-Tracing paper
-Doggie picture frames and a photo album (I already filled up the whole thing with Drake pictures!)
-Wilton Dessert Decorator Pro!!! and pastry bags
-Big container of nooch
-Dark chocolate dreams by PB and Co
-Socks
-Mean people wear fur shirt (but I had to send it back for a different size because my mom thought "ladies L" meant "unisex L" since the other size was called "girly", she thought it was for little girls). We sent it back, but I still haven't gotten the right size yet...
-Anti fur and anti leather buttons
-peta calendar
-slippers
-Passionate Vegetarian
A 12 Pack of Agave squeeze bottles, hell yes! Plus 4 other cookbooks, 3 of which came the next day: The Ultimate Uncheese Cookbook by Jo Stepaniak, The Mediterranean Vegan Kitchen by Donna Klein and The Everyday Vegan by Dreena Burton. Authentic Chinese Cuisine by Bryanna Clark Grogan has yet to come because it's out of stock. I may have to wait until February.
-A jar of pickles (from my dad...)
-Two face cleansers from earth science
-Urban decay lip gloss (it's so tiny and it was $17!)
-Merry Hempsters lip balm (probably my 6th or 7th tube now..)
-Desert essence organics almond body lotion (yum!!)
-Gloves
-A lemon zester, but we ended up returning it along with the pastry bags because I kept the big decorator pro. I bought silicon brush and a chopper that cuts veggies, fruits, and potatos into wavy shapes (like crinkle cut chips).
-A magnetic bracelet
-A garlic press
-A pawprint kit with a little quote book from Drake. It's like those concrete handprint kits for children, but for puppies!
-And a cupcake/cake/cookie/whatever carrier!!! It fit 24 cupcakes!
With my money, plus help from parents I bought a Sandisk Sansa 8 gig MP3 player with photos, music, and videos. For $180 from Amazon!! Take that, Ipod. It's expected to come in the next week. I can't wait, I've already downloaded (I mean, legally obtained and paid for..) 115 songs! It might come tomorrow since it's in Indianapolis right now! Maybe if it gets to Palatine later, it'll get here very soon!
I bought a 6 gig from BestBuy, but it was already loaded with Rhapsody and they trick you into having to pay a monthly fee, so I took it back when I realized this and then looked it up on Amazon. I paid $200 for the one from BestBuy, but only $180 for the same one with 2 more gigs. Woohoo!
Eventually I want to buy some rollerblades and a paint set. And an order from VeganEssentials. I've gone consumer-crazy...I never buy anything for myself, really. I actually felt a little guilty when I bought the first MP3 player.
Okay, back to Christmas. I brought Mint Chocolate Cupcakes topped with Trader Joe's Candy Cane Jojos to my cousin's house on Christmas.
From all the holiday baking, I had no sugar. I had to use maple syrup. I also ran out of mint extract, so I added some chopped candy canes to make up for it. I also had NO CHOCOLATE. I had to invent ganache from cocoa powder, maple syrup, oil, and vanilla because no stores were open. They actually turned out perfect!
I never mentioned Christmas Eve because it is not worth mentioning due to going to the home of some people I cannot stand. One person in particular is confident that I'm going to die because I am vegan. Yeah...right. I did get a cute little herb set from a food grab bag though!
Phase 4: Post-Christmas
I didn't have time for a gingerbread house before the holiday, so I did it after. Everything is homemade, down to the gingerbread, marzipan, and graham crackers. Not the candy though. And it's 100% vegan to boot!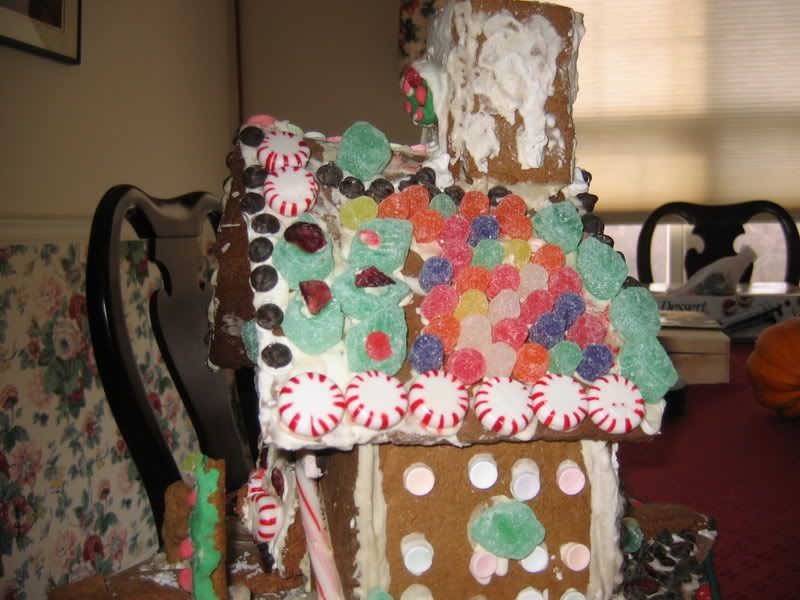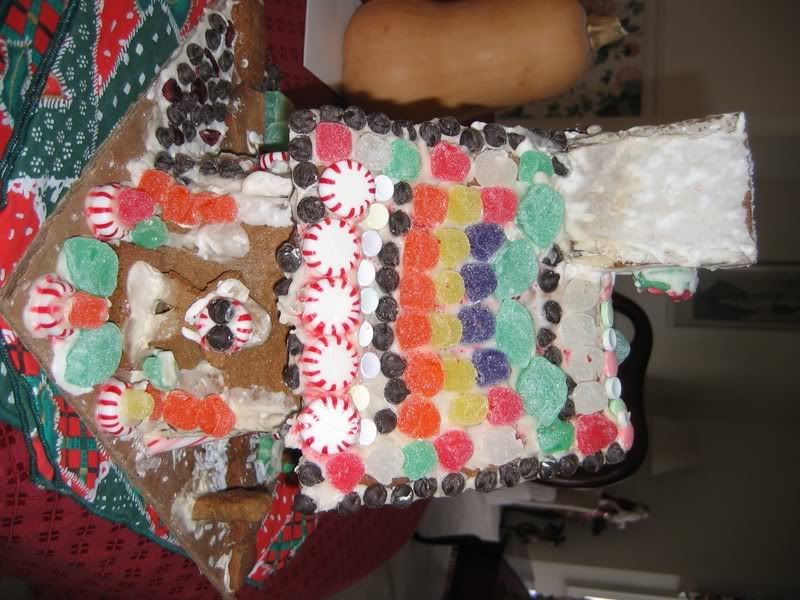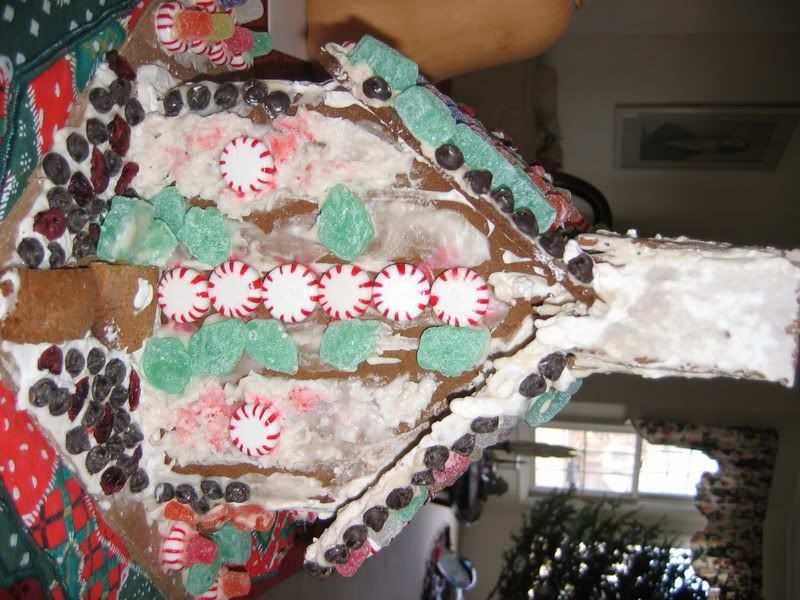 I wanted to share my sprinkles kit I made today. It's just sugar plus food coloring in many colors. I LOVE IT!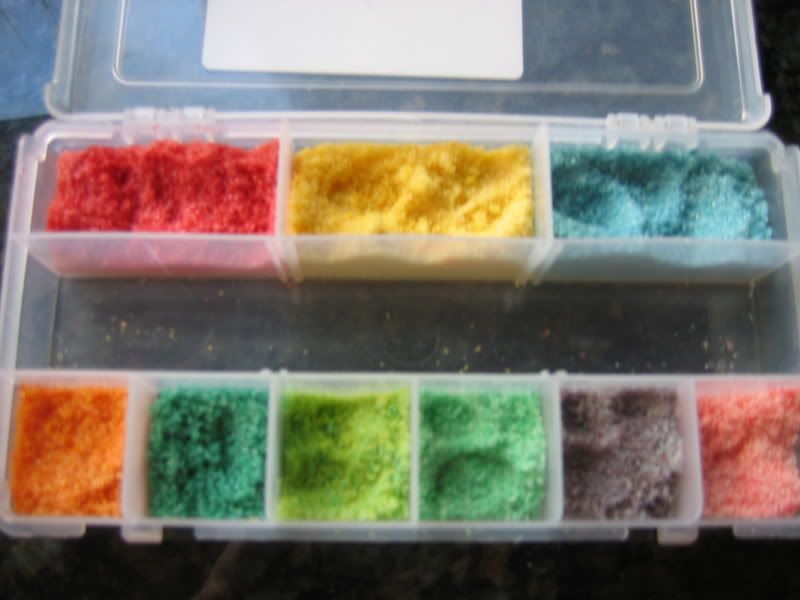 Chocolate dipped pretzels with pink sprinkles:
Phase 5: No Relation to Christmas, happened months before Christmas, savories to balance out all this sweet.
Love this pie. Pumpkin Pie from Voluptuous Vegan
This is what happens when you make "Microwave Oatmeal Bars" from Vegan Family Favorites by Erin Pavlina. Not only do they BURN, they melt the container if you so choose to use a plastic one. That was a big mess.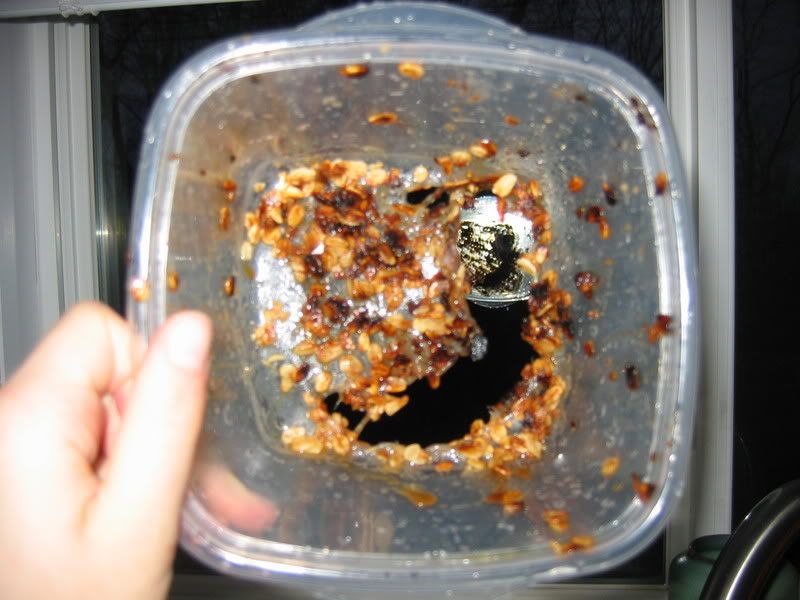 Cinnamon Buns!
But in loaf form!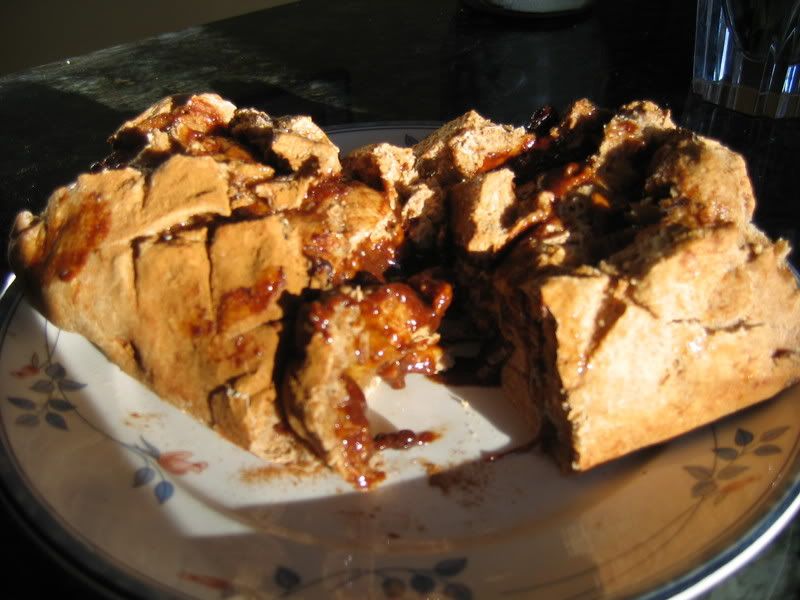 Chewy choco chip cookies sandwiched with fluffy buttercream frosting.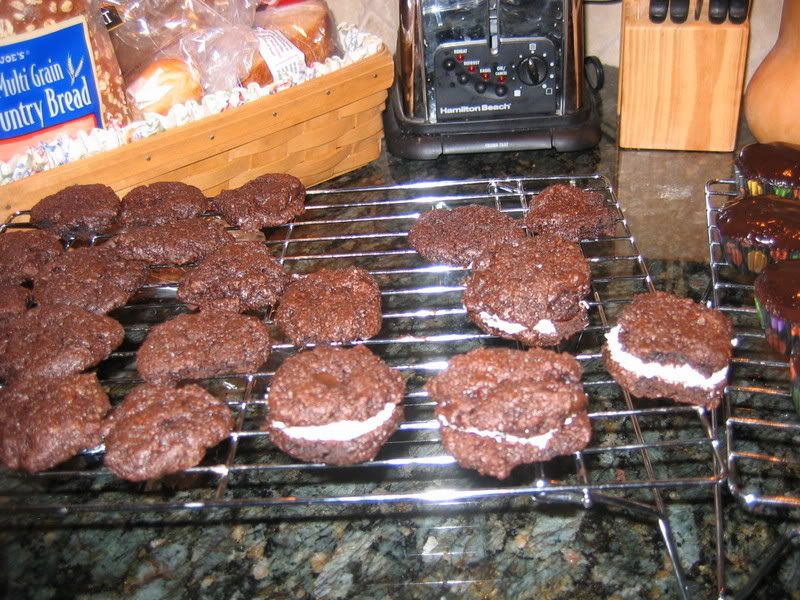 I LOVE love love this picture of Ginger Cupcakes with Lemony Frosting. They are so good and the lemon frosting is amazing.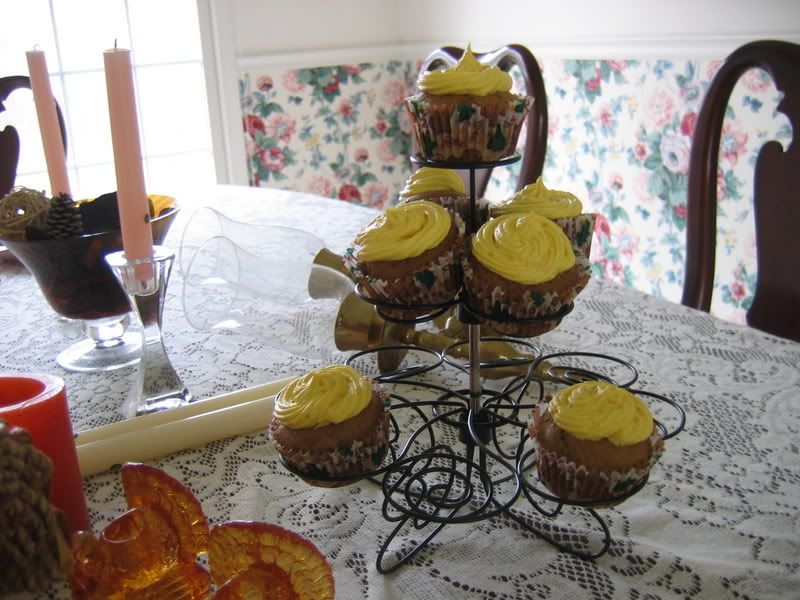 Cashew Cupcakes, but with Almond Butter, which is one of my favorite foods. My favorite is becoming cashew butter now though!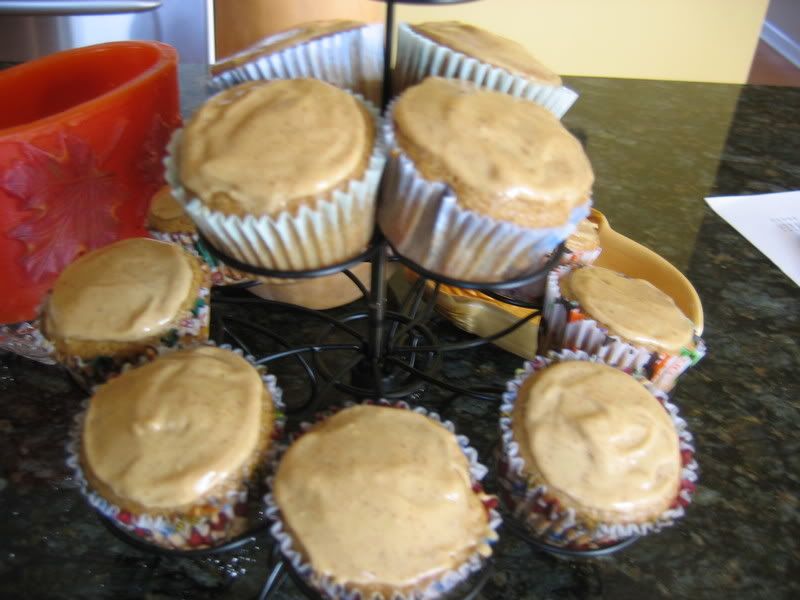 Mini Chocolate Cherry Creme Cupcakes:
On New Years, I made Hummus Tortilla Pizzas from Vive and made them into smiley pizzas with olives and ketchup.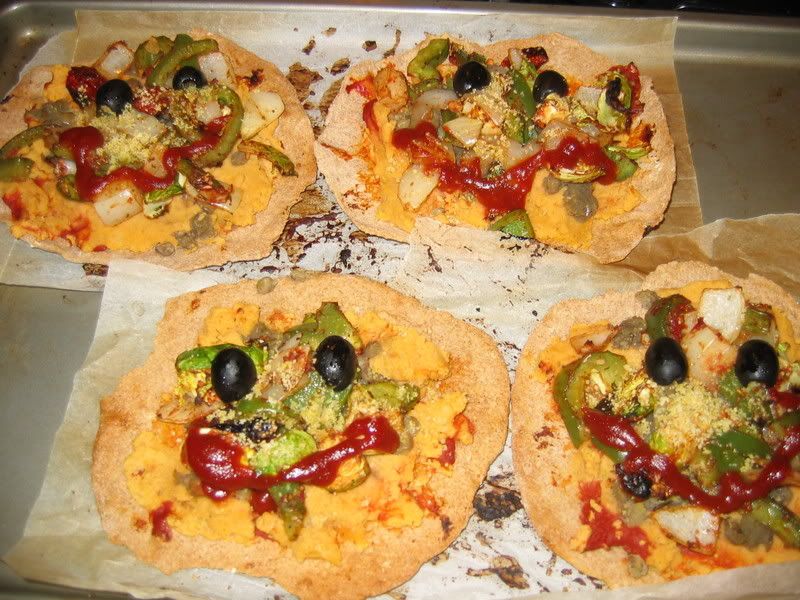 I made some cheezy polenta lasagna with premade polenta, veggies, marinara, Parmezano Sprinkles and Buffalo Mostarella from the Ultimate Uncheese Cookbook.
I made bagel dogs and bagels. I used a seitan pastrami recipe (although I would use something different if I made these again) and wrapped them in bagel dough!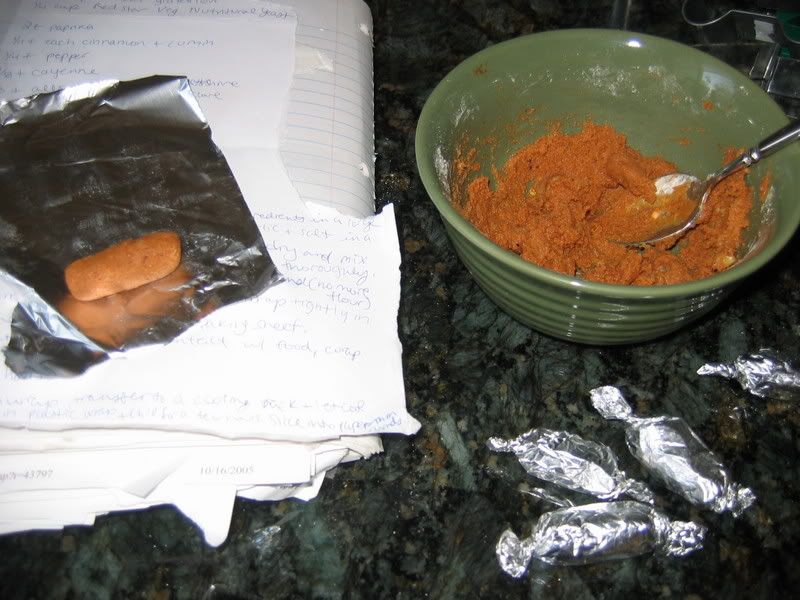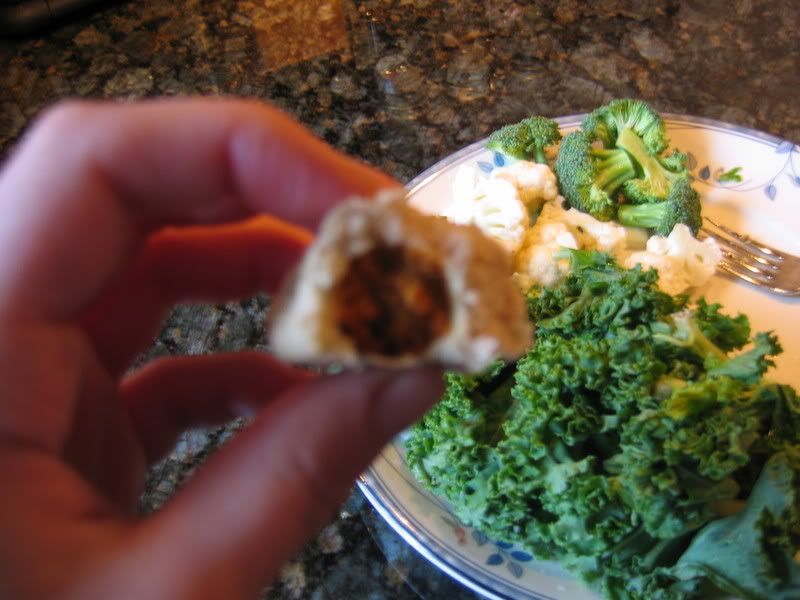 Whew. That was A LOT. Oh! I also went to a fur protest in Chicago during winter break at Nordstrom and Burberry. I met CUBE and Chelsea_Olive from the PPK and we went together. Afterwards, my mom and I went to Karyn's Cooked and got a TVP taco and coffee with soy creamer. So good. It was FREEZING. I didn't stop shivering until after we stopped in Whole Foods after dinner to warm up. I bought some TVP, cashew butter, and tahini. The tahini is 365 brand and VERY bitter. Anyone know how to alleviate this problem?
I'm off to do my homework now!