Thanksgiving (Dessert!)
I didn't take any pictures of dinner, but I had Brussels Sprouts with Toasted Garlic, Kale, Green Beans, a cranberry cornbread muffin, Cranberry raisin orange walnut pecan bread, pumpkin butter and cranberry sauce. There was also a dead animal and foodstuffs filled with butter and animal broth.
But for dessert, it was much most desirable and aesthetically appealing!
I made Pumpkin Pie from the Voluptuous Vegan, Tiramisu Cupcakes, Chocolate Cherry Creme Cupcakes, Strawberry Tallcakes, Sparkled Ginger Sandwich Cookies filled with lemon buttercream and a little banana cream pie for Drake. Everything was amazing, and I ended up making the pie again yesterday!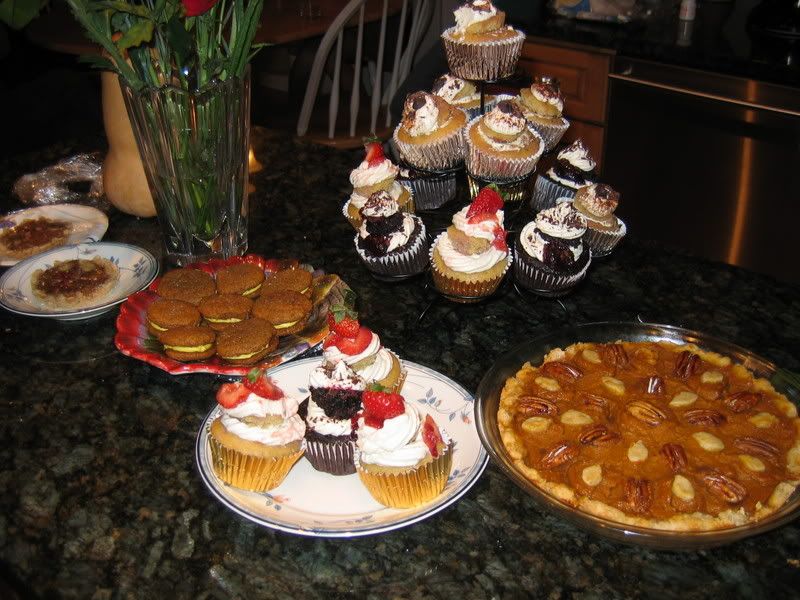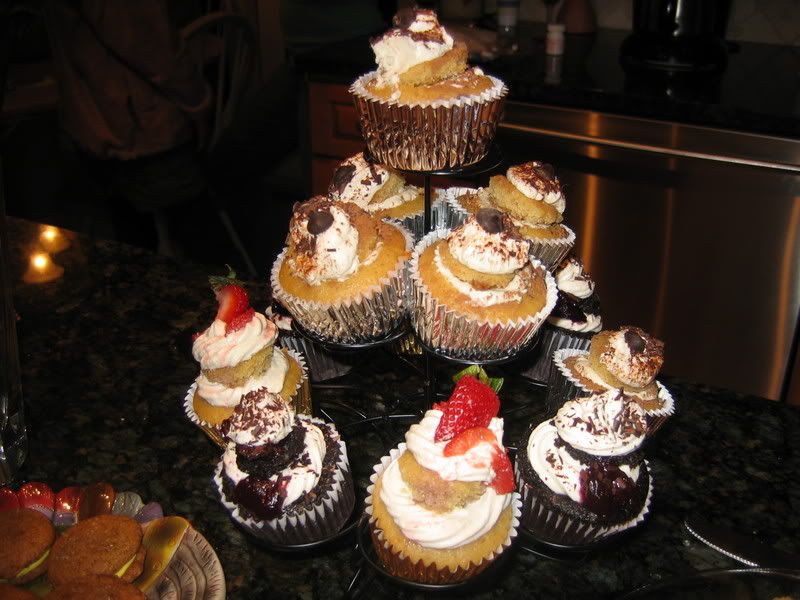 Recipe for the Banana Cream Doggie Pies:
I just made it up as I went. Drake loved it and we gave one to his friend who I was dogsitting.
Two small glass bowls (3-4 in diameter) that are oven safe, sprayed with oil
Crust:
Brown Rice Flour (or any flour, really)
Oats
Almond Butter (or PB)
Water
Pie:
A banana, slightly browned
Cinnamon
More nut butter
Cornstarch
Preheat oven to 325-350 degress F.
In each seperate bowl, stir together a mixture of oats and flour with a spoonful of nut butter and water as needed to create a workable dough. Press into the bottom and edges to make pie crusts. Set aside.
With a fork, mash the banana with a spoonful of nut butter. Add a few dashes of cinnamon. Stir in a a teaspoon or so of cornstarch. Pour the filling into the crusts. Sprinkle the tops with more oats or any other doggie-safe topping.
Cover the tops with foil and bake for about 10 minutes until the filling and crust is slightly firm. Uncover and bake for 5-8 more minutes (I'm not so sure on that time, I had my mom bake them while I was visiting Drake's friend, so keep an eye on them), until firm. Be careful not to cook too long or a skin will form on top (which is what happened, but Drake didn't mind).
My pies were brown because they had to sit in the fridge for a few hours since my mom decided to start cooking the animal right when I was about to put them in the oven.